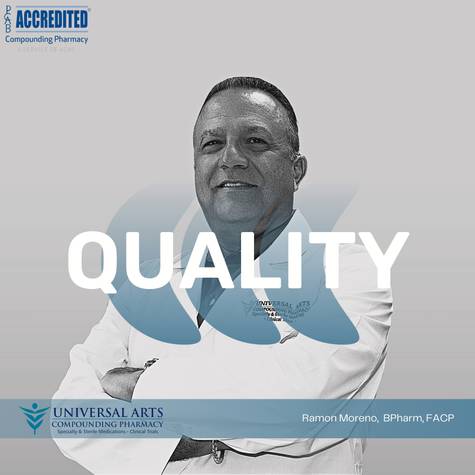 Ramon Moreno, BPharm, FACP
Founder and Pharmacist, Ramon "Ray" Moreno, has an extensive background and is past president of the Alliance for Pharmacy Compounding, formerly known as the International Academy of Compounding Pharmacists (IACP). As a past president of the Alliance for Pharmacy Compounding, Ray is a valued member of our community and of his professional affiliations and colleagues.
He came from a family of pharmacists, with his three brothers — Segfried, Alfredo and Miguel Moreno, all University of Florida Graduates — and his mother — Maria D. Moreno, a Class of 1948 graduate of the University of Havana, Cuba, College of Pharmacy — being practicing pharmacists. Strong family values, combined with expertise, have made Universal Arts Compounding Pharmacy a company to trust.
A graduate of the University of Florida, College School of Pharmacy, his professionalism and genuine concern for the holistic health of those he encounters is unchallenged. His dedication to his work is demonstrated in the consistent quality of the medications he prepares and the caring strength he instills in those who work with him.
As a patient care advocate in the area of Pharmacy Compounding, Ray has lobbied by participating in APC's Compounder of Capital Hill Efforts and his relationships with his South Florida Congressional representatives. He is the honorary recipient of Professional Compounding Centers of America (PCCA) awards, including Pharmacist of the Month and Pharmacist of the Year. He has also had the honor of receiving the Dupont Pharma Innovative Pharmacy Practice Award, awarded by the Florida Pharmacy Association (FPA) in 1997.