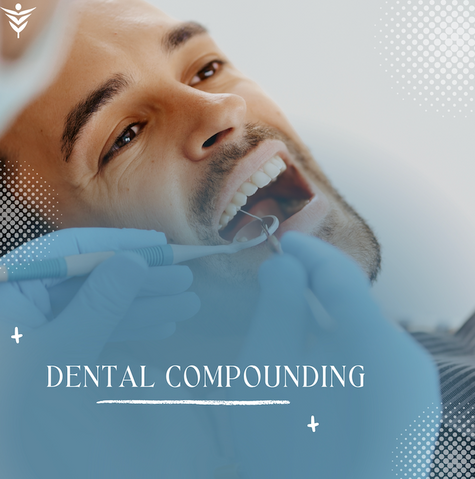 Custom Compounding For Your Pearly Whites
Universal Arts Pharmacy realizes that there are no two mouths that are alike, showing varying levels of dental health. In being different, each person's mouth has its unique reactions to particular medications affecting a person's gag reflexes.
Although, the healthcare industry realizes these differences among patients, the majority of pharmacies carry an inventory that tailors to the mainstream patient.
Universal Arts Pharmacy has the ability and facility to make compounds tailored to each patient's individual needs with for dentists, orthodontists, and periodontists. These compounds can be made in different dosages and strengths
Ultimately, compounded medications assist in the treating of patients with unique medication needs.
Patient specific medications or medications for office use are available through our pharmacy. For more information on how our compounds can best meet your needs, contact us.
The following is a list of medications that have been ordered by dentists:
TAC Alt 20% Oral Anesthetic
Lidocaine 20%, Tetracaine 4%, Phenylephrine 2%
TAC Alternate 20% is a gel used on the oral mucosa. This compounded medication is a combination of anesthetic ingredients and a vasoconstrictor. TAC Alt 20% has been used as an alternative to local anesthetic injectable solutions by dentist and their hygienist. Click to Review our Advisory Leaflet
Electrolyte Troche
Suppression of Gagging reflexes for Dental Procedures
It has been found that an electrolyte tablet administered and retained intra-orally a few minutes before the start of a procedure can stop or suppress the gag reflex, allowing a mandibular block to be given with much greater ease, which further reduces the gagging reflex. Dent Today. 1991 Dec; 10(9):68-71
Rinses, Mouthwashes & Lozenges
Compounded non-staining antibacterial rinses, magic mouthwashes, oral sedation medication can be tailor made. Lollipops, freezer pops, and lozenge forms are all alternative dosage forms available to be formulated with anesthetic, antifungal, and antimicrobial agents used in pre and post treatment protocols.
Problem Areas/Disease States
Bleaching/whitening agents
Chronic non-microbial mucositis
Xerostomia
Fluoride treatments
Aphthous ulcers/canker sores/oral lesions
Stomatodynia
TMJD
Angular chelitis/herpes labials
Fungus, viral, candida
Pre and post procedural anxiety syndromes
Gum disease (Gingivitis)
Dosage Forms
Troches/sublinguals
Capsules
Lollipops
Gels, oral, topical
Mucosal bandages (polyoxyl)
Mouthwashes and rinses
Dental ointments and pastes
Chapstick/lipstick, lip balms
Oral and topical sprays
Powder puffer
Popsicles
Injectables
Tablet Triturates